An Overview of the Timberline Glamping Experience
Being whisked away to a weekend location that strikes the perfect balance between luxury and outdoorsiness may sound like a fairy tale, but it's far from it. Timberline Glamping Company has expertly combined the finesse of nature-living with hotel-like opulence. Once guests get a taste of the cush beds and in-room coffee bar alongside breathtaking views, they come back again and again!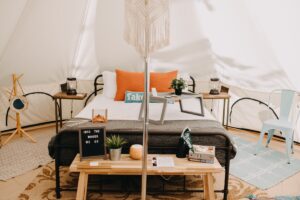 From the very start, Timberline Glamping has an easy-to-use reservation system for their guests. Easily view upcoming available dates and whether or not your desired sites are available. The entire company is laser-focused on the guest experience; it's truly what Timberline Glamping is all about! There's something for everyone at each location— like the large safari tents that can accommodate up to 6 or the cozy bell tents for groups of 4. The flagship site located at Lake Lanier in North Georgia even has Roxy the Retro RV, which essentially delivers an unparalleled hotel-room-in-the-woods vibe. 
At Timberline Glamping, guests will find that the entire experience is centred around their comfort level. Everything from small touches like signage and lighting, to the bigger things like coffee and fans, have been taken care of. Each glampsite is substantial and provides adequate sprawling space for both indoor and outdoor hang time. Guests will also find that each tent or RV is completely furnished, meaning they can enjoy the outdoors without sleeping on the ground or going back to less-than-awesome basics.
There's more. Timberline Glamping has a host of add-ons to customize each stay. Their Pop-Up Dinner Gazebos can be added on at $65 per stay as a perfect solution to mosquitoes during the summer months or the Propane Fire Pits can be opted in at $45 per stay to help create that perfect glampout ambiance. For lakeside locations, paddleboards, kayaks, paddleboats, and chartered boats are all available too. Charcuterie anyone? Timberline Glamping has various sized boxes to choose from!
TImberline Glamping is a unique, accessible outdoor experience unlike anything around! Comfort, fun, and relaxation come easy at each site. Don't have a Timberline Glamping near you? Great news! The company has recently launched its nationwide franchise opportunity. Gain the proven business model, exceptional branding, dialed-in operations, and amazing customer service techniques that have made TImberline Glamping the success that it is today! Join the franchise network by visiting https://franchise.timberlineglamping.com.